Euclid Telehealth – Begin preserving your eye health
ConnectWell Community Health WELCOMES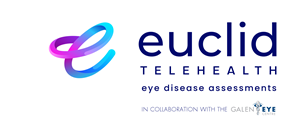 Eight million Canadians are living with eye disease and blindness. Annual comprehensive eye assessments provide early detection of eye diseases.
At Euclid Telehealth, we focus on eye disease assessments for the leading causes of vision loss and blindness, such as: glaucoma, diabetic retinopathy, macular degeneration, and others. The healthspan of eyes is our priority and while many eye diseases have no symptoms, Euclid uses leading technology and a trusted network of surgeons and ophthalmologists to identify and prevent eye disease.
In collaboration with the Galen Eye Centre, our mission is to bring early detection and treatment of vision loss to all Canadians.
WHO SHOULD HAVE AN ANNUAL EYE SCREENING? 
Ask your Primary Care Provider for a Referral if any of the below apply:
You are age 40 or older
You are diabetic
You experience any of the following

Blurred vision
A gradual change in vision
Increased difficulty driving at night
We will be onsite at ConnectWell Community Health to service the needs of your community on the 1st Monday of every month.
Call 1.800.511.5661 or visit our website www.euclidtelehealth.org
Euclid Telehealth is offered at ConnectWell Community Health Centre, Lanark Site.