It takes a very special horse to make the therapeutic riding magic.  Our horses have been specially chosen and trained to provide the best possible experience for our riders.
My name is Syrus. I am a registered Canadian. I am proud to say that my breed is Canada's national horse breed. We even have our own Act of Parliament. I am pure black in colour, but I bleach brown in the summer. I have a thick, wavy mane and tail. I love to trot and to walk out on the trails with my riders, and I really carrots and apples. I also have a thing going with one of the girls in the program. She is my sweetie.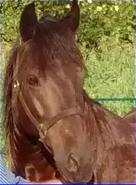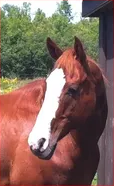 My name is Mary's Prince. I am named after a lovely woman who helped to bring me to the program. I am a shiny Chestnut, and I'm one smooth dude. My riders say that my trot is the smoothest of them all. I am always so happy to come into the ring for lessons with my riders. Maria, the head instructor, says I am her favourite.
My name is Madonna. At the farm they call me Madge.  I have lived at Fox Hollow Farm for most of my life, and I joined the program in 2018. Not that I am vain or anything but I am a beautiful pinto. I love to dress in rainbow colours and to be brushed until I shine. It's no wonder that Syrus likes to be around me. I love apples and carrots, and I know I am a favourite on the farm.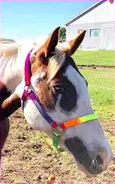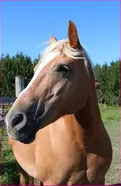 My name is Myra.  I am a beautiful palomino colour with a flaxen mane and tail.  I only started with the program in 2019 but I know you are going to love me. I have been working hard in training to be the best therapeutic horse there is. I am the shortest member of the team, but I am mighty. I love to play in my field, and I can't wait to meet all of the riders in the program.