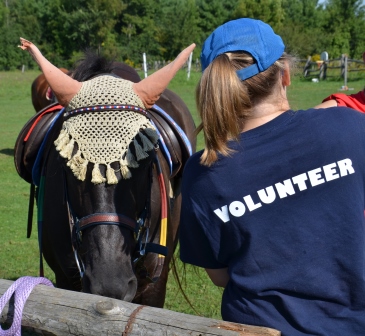 Nowhere is the community support for the Therapeutic Riding Program more evident than in its volunteers.
We are very fortunate to have a terrific team of over 100 volunteers. This dedicated group assist with leading and side walking during the lessons, helping with fundraising events and administration.
Our volunteers range in age from 16 to over 70 years of age and also include high school students who are doing volunteer work as part of their curriculum. The growing population of seniors and retired people who volunteer enjoy getting out for some great exercise and experience the benefits and great strides that the riders make during their lessons.
No previous horse experience is necessary – just an interest in being outdoors, getting some exercise and wishing to help and enjoy working with these special riders. Volunteer training is provided.
New volunteers require a "Vulnerable Sector Check" from the Ontario Provincial Police and must provide two personal references.